Virtuoso3D™ 3300 is a trackless 3D virtual studio system which has upto 3 live camera(simultaneous) inputs in HD/SD format. With Monarch`s Virtuoso3D™, you can change the way your channel looks On Air.
Monarch's Virtuoso3D™ 시스템은 완벽한 Trackless Virtual Studio Solution입니다. 이 솔루션의 심플함은 뉴스, 토크 쇼, 엔터테인먼트, 날씨정보, 교육 프로그램, 게임 쇼, e러닝 컨텐츠 제작 및 다른 응용 프로그램 등 다양한 장르에서 스파클링하고 세련된 On Air 프레젠테이션을 전달합니다.
Monarch Virtuoso3D™ 는 전적으로 제작자의 창의력이 최대한 발휘되도록 하고 우수한 컨텐츠를 제공하는 고급 도구를 갖추고 있습니다. 설정이 간단하고 직관적인 사용자 인터페이스를 통해 그것은 운영자의 손에서 매우 강력하고 다양한 도구가 됩니다.
Monarch Virtuoso3D™ 는 Production을 강화하고 프로그래밍에 대한 정교한 모양을 제공하는 데 도움이 됩니다. 그것은 Producer가 고정된 카메라에서 다양한 가상 동작(Zoom, Tilt, Pan, Jimmy Jip 샷 등)을 수행할 수 있습니다. 프로듀서는 하나의 고정된 카메라로 여러 카메라 설정의 환상을 만들 수 있습니다.

강력한 하드웨어와 포괄적인 그래픽 엔진덕분에, Monarch Virtuoso3D™ 는 실시간으로 전달하는 놀라운 사진을 사실적인 결과로 복잡한 3D 환경을 렌더링 할 수 있습니다. Monarch Virtuoso3D™ 는 최소한의 스튜디오 공간에 제작을 가능하게 하지만 시청자에게는 커다란 스튜디오의 모습으로 전달합니다.

이 solution은 3D Studio Max® 에서 만들어진 3D 세트를 사용하며 이는 물리적 세트와 시설비용의 필요성을 완전히 없애줍니다. 프로듀서는 같은 스튜디오에서 여러 프로그램을 제작할 수 있으며 스튜디오의 최적 사용을 보장합니다. 방송사는 프로그램에 신선한 모습을 전달할 수 있도록 제작에 대해 여러 가지의 세트 옵션이 포함되어 있습니다.
● Editable 3D Sets :25개 이상의 1~3앵커 Set, Desk+Standing Set, etc.



Key Features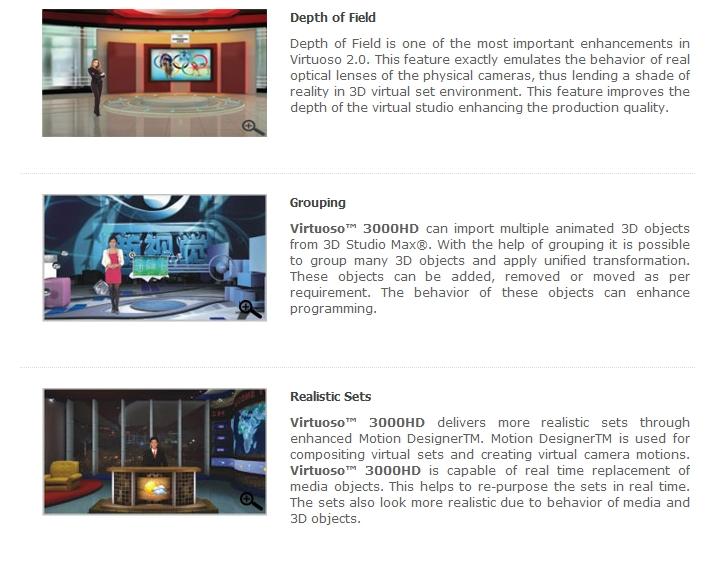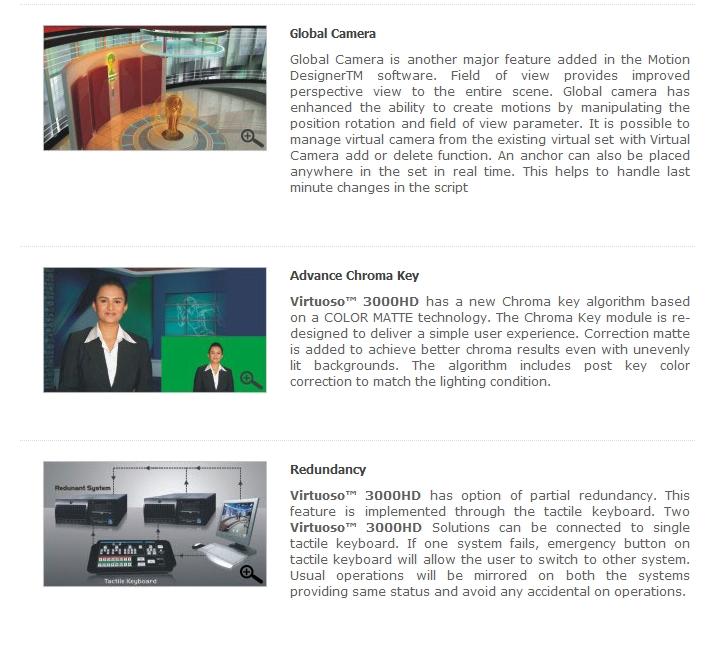 Features
Advance tools to deliver rich and realistic programming
- Depth Of Field
- Global camera with Field of View
- Animated 3D Objects with Skin Mesh
- Instantly Add & Delete Virtual Camera
- Grouping of Objects to easily control 3D objects in the set
Advance Chroma keying
- Advance algorithm based on COLOR MATTE technology
- Correction matte to achieve better results for unevenly lit backgrounds
- Algorithm powered with post key color correction to match the lighting condition
Live & pre-recorded source input & output
- Simultaneous Input Streams: Up to 3 inputs in HD, in a single virtual set
- Pre-recorded media source input in SD & HD formats
- Online preview of incoming live video inputs
Media Playlist
- Replace media files used in the virtual set and build a playlist of media to be used during production
- Look ahead preview of the media clip in the playlist
- Mark in and mark out to execute last minute edit
Graphics Overlay & Update
- Overlay 32 bit images, text & video clips instantly
- Graphic overlay with fade effect. Dynamic foreground overlaying module
- Update graphics on-line through client-server solution
- Create, edit and display text crawls in multilingual fonts
User friendly GUI for easy operation
- Easy-to-use Graphic User Interface
- Mouse-over preview of virtual camera
- Preview of live & pre-recorded input sources
Monarch Tactile Keyboard
- Enables Switching, Media Selection, Playback,Graphic, Text Crawl and Video Overlay
- Enables production through a single switcher panel
- Lights on the tactile keyboard help identify the sources and their availability
- System mouse and keyboard are in sync with the tactile keyboard, status of the mouse or system keyboard
reflects on the tactile keyboard
Monarch Motion Designer™
- Enables to import Virtual sets from 3D's Max along with their mesh & textures
- Enables the producer to position the virtual camera and perform virtual motions in real-time.
- Powered with advance features to deliver realistic look to the programming
- Enables the producer to import an animated 3D object in the set
Monarch Image art™
- Image Art enables the producer to instantly create graphic or text elements and overlay on virtual set for On-Air
graphic display.
- Bundled with ready-to-use elegant graphic templates.
- Incorporates text in the image with an built-in character generator.
Media Swap Automation
- Media Swap & Auto Playback of media clip
- Audio Smart Fade
- Audio Follow Up with Media (Audio Swap)

<Virtuoso3D™ 제품 이미지>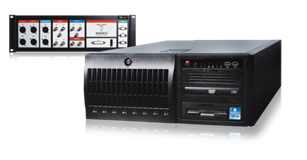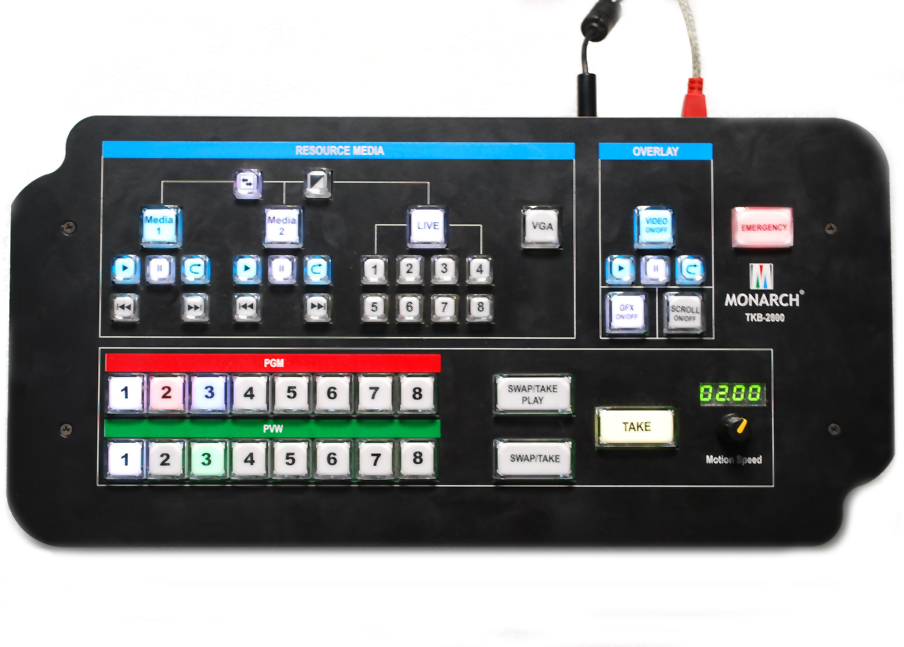 (Tactile keyboard, optional)